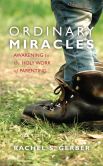 Book Description: 
Where is God in the midst of temper tantrums, laundry, and accidents? In this honest, devotional memoir about mothering three busy boys, ordained Mennonite minister and blogger Rachel S. Gerber gives voice to the grit of parenting with stories of hope. Like the disciples on the road to Emmaus, who failed at first to recognize the Christ walking beside them, Rachel learns to discover the gifts and holy calling hidden in the events of harried family life. Overburdened parents will find encouragement in Rachel s own story of how, in her darkest hour of disorientation, in the most mundane and ordinary days of motherhood, and in moments of exhilaration, joy, and beauty, God is present.
Ordinary Miracles offers hope and a sense of purpose in the midst of the exhausting and harrowing days of parenting young children. It is an invitation to consider where God surprises us in the midst of ordinary life, awakening our inner sight to see that as we care for our children, we love and serve the God who created them.
Review
If you have young children, you need this book.  This is my all-time favorite parenting book, and I've read dozens. While so many authors give parents specific how-to tips and make us feel like failures if we don't follow their advice exactly, Gerber shows us it's a tough but fulfilling, and often hilarious calling to raise young children.  The author does an excellent job of telling it just as it is…crusty milk and cereal covered floor and all! She shares thoughts  and encouragement for the exhausted mother of young ones.
~Reviewed by Lindsay L.