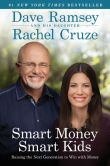 Book Description: 
Dave Ramsey and Rachel Cruze teach parents how to raise money-smart kids in a debt-filled world.In Smart Money Smart Kids, financial expert and best-selling author Dave Ramsey and his daughter Rachel Cruze equip parents to teach their children how to win with money. Starting with the basics like working, spending, saving, and giving, and moving into more challenging issues like avoiding debt for life, paying cash for college, and battling discontentment, Dave and Rachel present a no-nonsense, common-sense approach for changing your family tree.
Review
This combination parenting and personal finance book helps parents teach their children key money skills–such as saving, spending, budgeting, investing, and donating–that they'll need to become financially secure adults. This book will help you teach your kids what money can buy–from school supplies to fun and games; how credit cards work and why NOT to use them, ways to watch money grow. Saving money isn't about a piggy bank anymore. This book will teach kids all they need to know about the "green" they earn so they can save or spend it wisely.
~Reviewed by David H.